W.Va. House unanimously rejects Senate amendments to bill eliminating personal income tax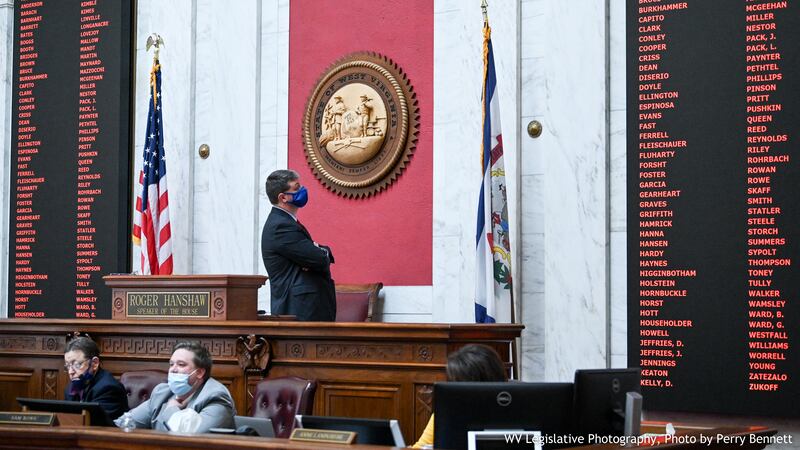 Published: Apr. 9, 2021 at 2:31 PM EDT
CHARLESTON, W.Va. (WSAZ) - The West Virginia House of Delegates unanimously objected a motion to concur with West Virginia Senate amendments to a bill that would eliminate the state's personal income tax, effectively killing the proposal for this legislative session.
The House chamber filled with applause after the vote tally lit up red Friday afternoon with all nay votes. That vote was called after Gov. Jim Justice called House leaders "afraid" to hold a vote on the bill during a news conference called last minute on Friday morning.
"We would normally prefer that we continue to work together, and talk constructively, and try to reach a place of shared understanding, and then bring bills out here that we think could pass,"House Speaker Roger Hanshaw (R-Clay) told WSAZ after the vote. "But, when we are specifically told that we're afraid to take a vote, we're not afraid to take a vote on any issue, and have now done so."
The latest version of HB 3300, which would repeal the state's personal income tax and replace it with a number of tax increases, has done an about-face since leaving the House with a yes vote two weeks ago. Senate Finance Chair Eric Tarr (R-Putnam) completely rewrote the bill in line with Gov. Justice's proposal at Monday's income tax summit.
"To quote our governor, there is no way, shape, form or fashion that I could ever support any portion of what is suggested," Delegate Marty Gearheart (R-Mercer) said ahead of the House vote. "Ladies and gentlemen, it is time that we let the governor and the Senate know that we recognize that tax increases are not a tax cut. They're simply shifting a burden."
The original House version would have repealed the income tax over about a 12-year period without creating any new taxes. The new Senate version eliminates the income tax in about four years, but replaces it with a number of new taxes to make up for the budget shortfall, including what would be the highest state sales tax in the country.
"A tax shift is just not acceptable," House Minority Leader Del. Doug Skaff (D-Kanawha) said after the vote. "A tax increase is not acceptable. You combine all of that into one bill and it is just not good for West Virginians at this time."
"Whenever you want something passed, or something new, or something this drastic done, you've got to have buy in," Skaff continued. "The best way to get buy in, especially being a business man, you would think you would have multiple people at the table to help craft that plan. That's where I think it was flawed to begin with. It seemed like it was a top down plan, rather than a bottom up."
During his Friday news conference, Justice called the plan to eliminate the state's personal income tax the "most important issue ever addressed in the state." He also referred to the bill as "dead" when answering questions from the press, even prior to the House vote Friday afternoon.
The latest amended version passed the Senate late Wednesday night. The House adjourned on Thursday without formally receiving the new version in either its morning or evening floor sessions. It did not take up the message on Friday morning either, but returned to the top of the agenda to make the statement vote.
Earlier this week, Hanshaw told WSAZ it was unlikely the bill would be passed this session, and a special session would be needed later this year to find a compromise between the different proposals.
"Big transformative policy changes take time to craft, and they're a work in progress, and they should be and will continue to be," Hanshaw said. "The personal income tax goal that was shared, and is shared here by both of the houses and the executive, it would be the most fundamental, transformative, monumental shift in state tax policy in the history of this state. We aren't going to take that lightly. We aren't going to simply do that on a whim. We aren't going to do it without data. We aren't going to do it without justifiable, verifiable, predictions modeling work done to changes we are talking about making here."
"We will not end up like Kansas," Hanshaw continued about that state's effort to eliminate the income tax resulting in bankruptcy. "I am simply unwilling to do that. And I think you just saw a demonstration that the 100 members of this House are unwilling to do that."
The bill was referred to the House Finance Committee following Friday afternoon's vote. It is expected to die there when the legislative session ends on Saturday.
Copyright 2021 WSAZ. All rights reserved.