Spirit Halloween donates more than $100K to WVU Medicine Children's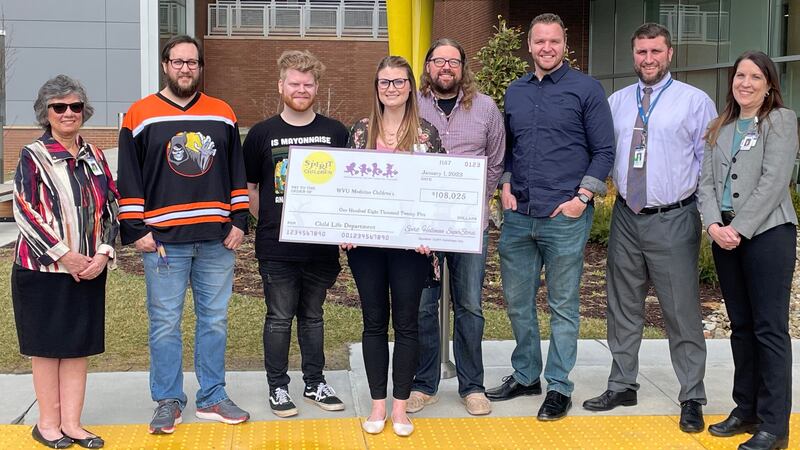 Published: Mar. 6, 2023 at 3:00 PM EST
MORGANTOWN, W.Va (WDTV) - Spirit Halloween recently made a large donation to WVU Medicine Children's.
Representatives from the costume retail store presented a $108,025 check to WVU Medicine Children's Child Life Program. The money was donated by store customers last fall.
"It is such an honor to work for a company and a program that allows hospitalized children to benefit from the generosity of our amazing customers and see the money collected put to good use to make the Children's Hospital stay less scary for kids," Joshua Blom, Spirit Halloween zone manager, said.
Funds raised help provide non-medical treatment and healing play. The most recent donation will be used to offset Child Life Program salaries, training, and to help make kid-friendly updates in areas of the new WVU Medicine Children's Hospital.
"Spirit Halloween's generous donation supports the resources necessary to provide and promote play and healing within the hospital environment," Megan Mezzanotte, WVU Medicine Children's Child Life supervisor, said. "The donation will give the Child Life Program opportunities to grow through staffing and training specific to supporting patients and their families throughout their healthcare journey. We are overwhelmed with gratitude for their continued generosity, which allows programs like Child Life to flourish."
Spirit Halloween collected proceeds for WVU Medicine Children's in-person at stores throughout West Virginia and Marietta, Ohio, online at SpiritHalloween.com, and from business partners.
Since 2009, the Spirit of Children Program has raised $818,974 for WVU Medicine Children's.
Copyright 2023 WDTV. All rights reserved.