Maryland survives at March Madness, beats WVirginia 67-65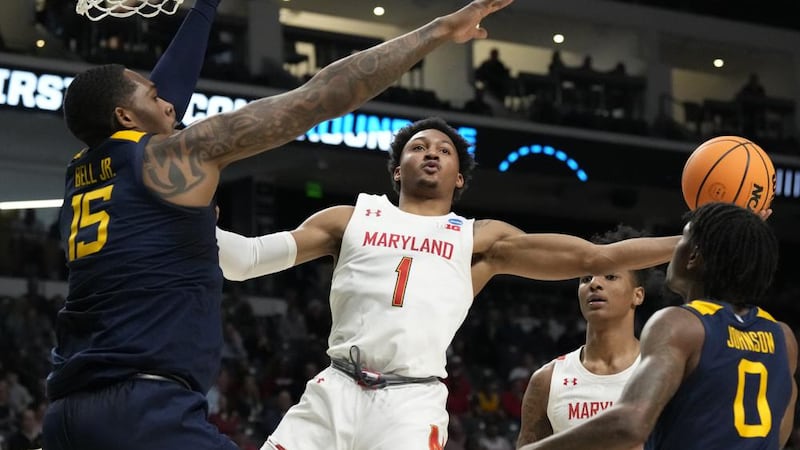 Published: Mar. 16, 2023 at 3:23 PM EDT
BIRMINGHAM, Ala. (AP) — Maryland overcame a sluggish start and a final heave at the buzzer by Kedrian Johnson, topping West Virginia 67-65 in the first round of the NCAA Tournament on Thursday.
Johnson led all scorers with 27 points, but his potential winner bounced off the side of the rim as the horn sounded, allowing the Terrapins (22-12) to advance in March Madness.
Maryland, led by Julian Reese with 17 points and nine rebounds, meets the winner of top-seeded Alabama and No. 16 Texas A&M-Corpus Christi on Saturday. Those teams met in the second game of the day at Legacy Arena.
The opening matchup between eighth-seeded Maryland and the No. 9 Mountaineers (19-15) lived up to the billing.
Maryland fell behind by 12 points in the first half before rallying to take a 32-30 lead at the break. Neither team could break away over the final 20 minutes.
A traveling call on Jahmir Young gave West Virginia a chance to tie it with a 3-pointer. But the Mountaineers could not find anyone open beyond the arc, forcing Tre Mitchell to bank it in under the basket.
Young was fouled after the inbounds but made only one of two free throws. West Virginia got the ball in the hands of the guy it wanted, only to have Johnson come up short on the buzzer beater.
In a contest that started at 11:15 a.m. local time, Maryland sleepwalked through the first 10 minutes.
The Terrapins turned it over on five of six possessions and went nearly 8 minutes without scoring. West Virginia built a 16-4 lead that could've been even bigger if not for poor shooting by the Mountaineers.
The Terps stopped being so sloppy with the ball and scored 18 of the next 23 points, reclaiming the lead on Young's 3-pointer with 6 minutes left in the opening half.
Maryland led at halftime after hitting nine of its last 13 shots, including 3 of 5 beyond the arc, to go along with 7-of-7 perfection at the foul line. More important, the Terps turned it over just two times during that span.
BIG PICTURE
West Virginia: Coach Bob Huggins came up short in his 26th trip to the NCAA Tournament.
Maryland: The Terps are moving on, but they can't be as sloppy in their next NCAA game.
UP NEXT
In is last NCAA appearance two years ago, Maryland lost to Alabama in the second round.
___
AP March Madness coverage: https://apnews.com/hub/march-madness and bracket: https://apnews.com/hub/ncaa-mens-bracket and https://apnews.com/hub/ap-top-25-college-basketball-poll and https://twitter.com/AP_Top25
Copyright 2023 The Associated Press. All rights reserved.