Community mourns teen killed in golf cart crash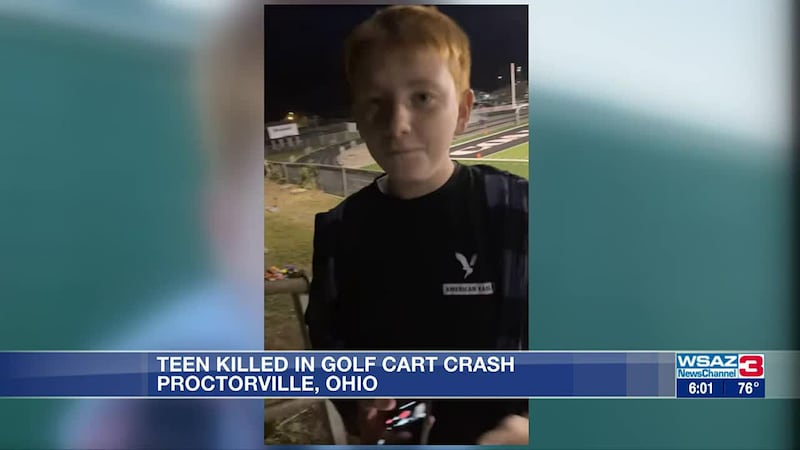 Published: May. 26, 2023 at 7:29 AM EDT
PROCTORVILLE, Ohio (WSAZ) - A teenager has died after a golf cart crash.
According to the Ohio State Highway Patrol, David Mitchell, 15, of Proctorville died on Thursday evening, when the golf cart he was driving overturned at the intersection of Township Road 1535 and Township Road 1536 in Rome Township. Troopers say the golf cart went off the left side of the roadway and turned over.
It happened just before 5 Thursday evening.
Ohio State Highway Patrol says three other juveniles were riding on the golf cart with Mitchell.
Mitchell was killed in the crash.
The crash remains under investigation.
Superintendent of Fairland Local School District, Roni Hayes, released the following statement Friday:
"On behalf of the Board of Education and our school family, I extend my most sincere and heartfelt sympathy. We are praying for his family, friends and our school community as we cope with this terrible loss."
A moment of silence was held for Mitchell at Fairland's graduation ceremony in their gym Friday night.
Class president Steeler Leep didn't know Mitchell but says everyone's thoughts are with his family.
"We're all grieving as a community," Leep said. "My friends and I never really talked to him because he was a freshman, but it doesn't matter. Whenever Fairland loses a Dragon, it's really upsetting."
Leep lost his father to cancer last year and knows firsthand how the community rallies around its own.
"We have a really tight-knit community here," Leep said. "It's a shame. It really is. I just want to give my condolences to David's family."
Law enforcement says no one is allowed to ride golf carts on roadways in Rome Township.
Copyright 2023 WSAZ. All rights reserved.