Jaden Sayre recovery going faster than expected, will be back home on Sat.
Jaden Sayre is reportedly recovering quick after the hit and run in early June.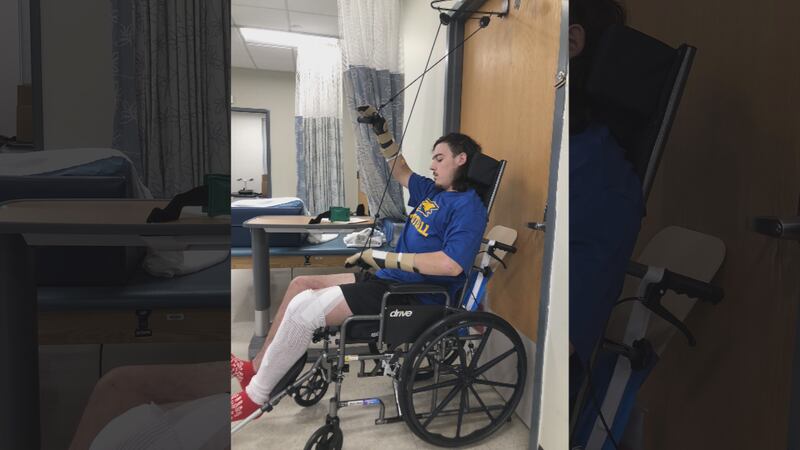 Published: Jun. 22, 2023 at 8:28 PM EDT
PARKERSBURG, W.Va. (WTAP) - After the Ravenswood hit and run from June 2nd, the survivor of the wreck — Jaden Sayre — is recovering quicker than expected. Jaden's mother, Lisa Turley said Sayre's recovery is moving so well that he will be returning to Ravenswood on Saturday morning.
Both Jaden and his mother say the support from the Ravenswood community and his football community — both in Ravenswood and at Hocking College — are helping him during this time.
"It's just been amazing. A football family is real. It's just unbelievable how much everybody just pulls together. And it's truly like you're family. The teammates and the parents and the coaches," Turley said.
Turley said there is significant improvement with Jaden's range in his leg that suffered a broken femur and tibia and is making progress with his arms and core strength. He is having difficulty with his right arm which suffered a radius fracture... And he is not allowed any weight bearing on his legs and hands... And still has splints covering his fingers.
Jaden said in roughly eight to nine weeks he will learn how to walk again.
"It feels like I have a family behind me. It feels like whether this all goes good or bad I know that I'll have people behind me supporting me. No matter how this goes," Sayre said.
We will keep you updated as this story continues.
Copyright 2023 WTAP. All rights reserved.