Jaden Sayre returns home with a road to recovery ahead of him
Jaden is recovering after his hit and run from early June.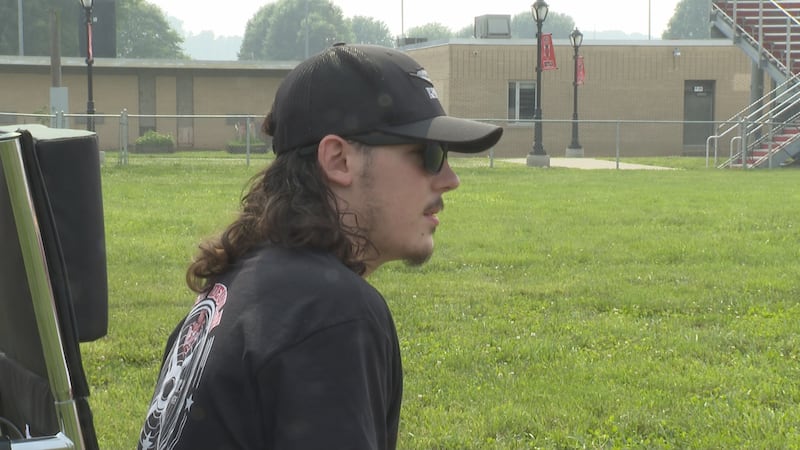 Published: Jun. 29, 2023 at 8:21 PM EDT
PARKERSBURG, W.Va. (WTAP) - As the Ravenswood high school football team practices, the attention isn't on a player standing on Flinn Field, but for Jaden Sayre who is back home after the hit and run from early June.
"Being home is wonderful," Sayre said. "I can come, I can watch my boys practice, be in my own house. Not having to be in the hospital is a big advantage. I sleep a whole lot better."
Jaden said the last thing he remembers from the incident was bringing his dirt bike out of the driveway.
"What I was told was I was turning around and the lady had came across the center line. And she was pretty much completely in my lane because she had hit me," Sayre said. "My little nephew had seen it, nine years old. And he said I was doing flip after flip after flip."
Jaden said he woke up with five doctors and his mother surrounding him.
"I was in restraints, they were just looking at me," Sayre said. "I had a tube down my throat. I couldn't talk. My mom was in the background and all I could hear was saying, 'Do you know what happened? You're okay. Don't worry you're okay.' Apparently, I had been asleep for three days in I.C.U."
After Jaden woke up, he saw the massive support from his high school football team and from the city of Ravenswood.
"I had never thought that I could have this much support from anybody," Sayre said. "From such a small town too it shows just how big small towns are."
Jaden is also receiving support from Hocking College – the school he chose to play football for before the wreck. Jaden said the football program is in cooperation with him and his mother and let them know he will be a part of the team no matter what.
"It just shows a lot because they don't have to do that. I could just be another guy and they could just skip over me," Sayre said. "And so, it means a lot honestly."
Jaden's recovery is moving much faster than the doctors expected.
"Just determination honestly and I hate laying in bed," Sayre said. "I'm not a lay around in bed guy honestly. So, I'm ready to get out of that bed and get on my feet."
Jaden said his goal is to be able to walk on the Ravenswood football field by week six or seven of the season.
The woman responsible for the hit and run, Dezirae Coyer was arrested on June 14 for leaving the scene of an accident-causing serious bodily injury.
Copyright 2023 WTAP. All rights reserved.