Greater Parkersburg CVB hosting WWI exhibit
The Greater Parkersburg Convention and Visitors Bureau is hosting an exhibit with historical significance to the area.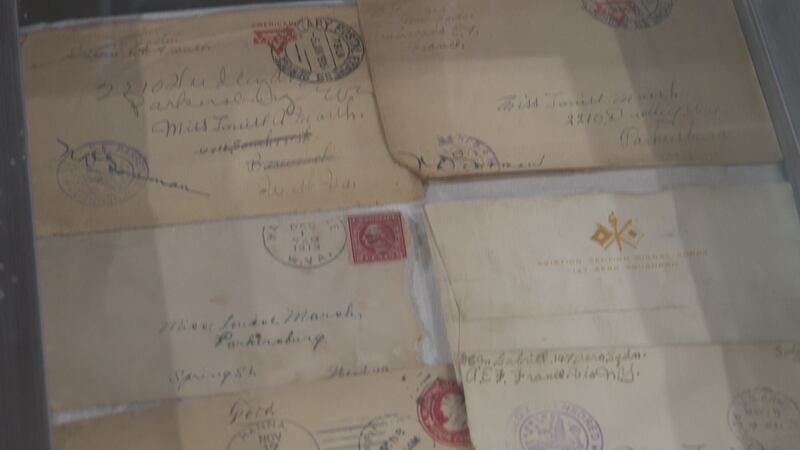 Published: Jul. 13, 2023 at 7:30 PM EDT
PARKERSBURG, W.Va. (WTAP) - The Greater Parkersburg Convention and Visitors Bureau is hosting a World War I exhibit which centers around two Parkersburg residents during that time period.
The exhibit's curator, Michael Coker said this exhibit shows a human element to the war and a new perspective of Parkersburg's connection to the war.
"I hope that it offers people here in Parkersburg and West Virginia a sense of how much they contributed to World War I. And that there were 'ordinary people' who kind of get lost in the history books, and they're worthy of remembrance," Coker said. "The two that I've found Cecil 'Zeke' Gabriel and Louise Marsh are certainly two of those individuals."
Cecil "Zeke" Gabriel was an airplane mechanic for the 147th Aero Squadron serving with the American Expeditionary Force in France and Louise Marsh was an elementary school teacher during this time.
Visitors center president and chief executive officer, Mark Lewis said an exhibit like this is what the center is looking to showcase.
"Well, when we bought this building, our goal was to not only make this a great place to welcome our visitors but as a location for activities and events that would enhance the community and enrich the community," Lewis said. "And we feel that this exhibit – this historic exhibit – goes right along those lines."
The exhibit featured many artifacts and pieces of the time period. Including a mailbag and original postage and letters written by the couple.
"They corresponded quite frequently with mail," Coker said. "I've got the mailbag there that may have carried some of those letters to them. There was no email back then, there was no quick, easy way of mass communication accessible to most folks. So, writing letters. That was your lifeline back home."
Coker said exhibits like these show not only a different side of the war, but provides more insight into the people back then.
"It helps root that they were people. They're not just us in funny clothes," Coker said. "They were us and so much of what we go through today, they did as well."
Lewis said he hopes to bring more exhibits like this to the CVB.
Copyright 2023 WTAP. All rights reserved.