West Virginia University crisis looms as GOP leaders focus on economic development, jobs
West Virginia University is recommending slashing its language department and dozens of other programs amid a $45 million budget shortfall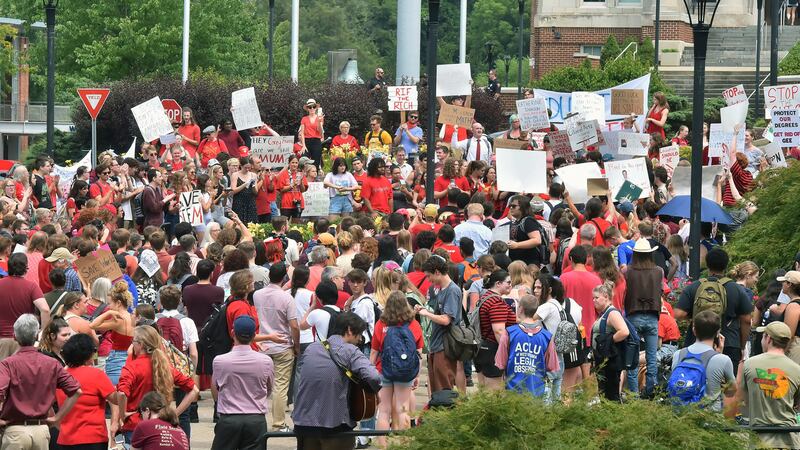 Published: Sep. 4, 2023 at 1:42 PM EDT
MORGANTOWN, W.Va. (AP) — On the same day that dejected students pleaded with the board of West Virginia's flagship university not to eliminate its entire foreign languages department and dozens of other programs, Gov. Jim Justice said he was feeling hopeful about the future of education in the state.
"We've had tough times — there will be more tough times — but absolutely we are rising from the ashes," Justice said Aug. 22, while signing a bill allocating $45 million for another state school, Marshall University, to open a new cybersecurity center 200 miles from West Virginia University.
Lawmakers approved the Marshall project, heralded as the nation's "new East Coast hub" for cybersecurity, in a hastily called special session last month but rejected calls to send WVU funds to address its budget deficit, currently about $45 million.
The Legislature's lack of interest in bailing out the state's largest university comes as WVU struggles with the financial toll of dwindling enrollment, revenue lost during the COVID-19 pandemic and an increasing debt load for new building projects. Administrators have pushed to take drastic action that raises questions about the responsibilities of states to offer diverse academic offerings — particularly at land-grant institutions in rural areas that traditionally lack access — and could be an early indicator of shifting priorities nationwide.
With a budget shortfall projected to grow as high as $75 million in five years, West Virginia University is proposing cutting 32 programs — 9% of the majors offered on its Morgantown campus — including its entire department of world languages, literatures and linguistics, along with graduate and doctoral degrees in math, music, English and more. Other U.S. universities and colleges have faced similar decisions, but this is one of the most extreme examples of a flagship university turning to such dramatic cuts — particularly when it comes to foreign languages.
After an appeals process last week, school officials pivoted to recommending that WVU's board of governors retain five out of 24 full-time world languages faculty to teach some in-person Chinese and Spanish. They also moved to save the school's graduate creative writing program, which had been slated for elimination. But the English department would still lose a little over a fourth of its instructors under the current plan, which WVU's board will vote on Sept. 15.
WVU has labeled the shift an "academic transformation" amid an "existential crisis" in higher education. Speaking to faculty this year, WVU President Gordon Gee said higher education has "lost the support and trust of the American public."
"I want to be very blunt: We have been isolated, we have been arrogant, we have told the American public what they should think," he said, adding that institutions like WVU have to "turn that around almost immediately, otherwise we have a very bleak future."
But critics see a different a set of circumstances, accusing the administration of financial mismanagement, poor strategic planning and lack of transparency in a state with the lowest rate of college graduates and highest rate of population exodus.
After being named WVU's president in 2014, Gee promised to increase enrollment to 40,000 students by 2020, which never materialized. Instead, the student population at West Virginia University has dropped 10% since 2015, while on-campus expansion continued.
WVU has spent millions of dollars on construction projects in recent years, including a $100 million new home for the university's business school, a $35 million renovation of a 70-year-old classroom building and $41 million for two phases of upgrades to the football team's building.
The crisis, which the American Federation of Teachers called "draconian and catastrophic," has drawn outrage at WVU, where hundreds of students staged a protest against the cuts.
Freshman math and English major Joey Demes already had several college credits when he was looking at colleges. Demes was in the foster care system until he was 18 and chose WVU based on the strength of its math program and financial support the institution offered that "other colleges would not have."
Now, he said he feels like both majors are being attacked.
"This is where I've grown up and lived and it is upsetting for me," he told the university's board Aug. 22, adding that he plans to continue his math education after undergrad and become a researcher. "What I'm being told with the grad program for math being cut, is that you guys don't want me here, that you want me to go to another state and get an education elsewhere."
Leaders agree that education is a key tool to attracting young people and improving quality of life in West Virginia, but WVU's predicament has raised serious questions about what kinds of education add the most "value."
For the GOP officeholders, value is in economic development and promoting innovative programs — like cybersecurity — that can't be found almost anywhere else. Many at WVU, however, say the school's diverse offerings give students opportunities they might not be able to access — or afford — elsewhere that are just as valuable.
"We all know what's going on at WVU, and they will work out their problems," Republican Senate President Craig Blair said during the signing ceremony at Marshall. "Our No. 1 export has been our youth. That must change."
As the flagship, WVU has always received a larger share of higher education funding, state leaders say. The school received $50 million from the state just two months ago for its cancer institute. But some insist money hasn't always been spent wisely.
Lawmakers recently approved a higher education funding formula rewarding schools for degree attainment, workforce outcomes and graduate wages.
Republican Senate Finance Chair Eric Tarr said the way to benefit from the formula is to "provide degrees that lead to jobs."
"WVU is now making changes that will permit that to occur," he wrote in an opinion piece, raising concern about what he called "unbridled spending by liberal 'educators'" across the country.
Professor Lisa Di Bartolomeo, who coordinates the university's Russian studies and Slavic and East European studies programs, said the long-term effect of the program cuts will be profound. Di Bartolomeo said the blow to WVU's language arts alone is the most extreme "that anybody has seen anywhere in the country."
"I hope this is not a sign of things to come, but I do worry that it may be, and that other places will see what WVU is doing and say, 'Oh, well we can get away with this, too,'" she said.
Mary Manspeaker, an English Ph.D. student, said she left her home state at 18 because she didn't see opportunity in West Virginia. She came back to the university where her parents went because her research is focused on Appalachia.
"To come back and be told that the English department doesn't matter, that I was right, that there might not be a place for me in West Virginia is heartbreaking," she said.
Peter Lake, who directs the Center for Excellence in Higher Education Law and Policy at Florida's Stetson University said that in recent decades, institutions have increasingly taken a more business-focused approach centering on "return on investment."
The concern for a flagship like WVU, Lake said, is whether these cuts eliminate a pathway for liberal arts studies for most students, preserving them only for "elite institutions that fairly wealthy or very fortunate people can attend."
He said the conflict reflects the fundamental question in higher education right now: How do we assess value?
"Where is the real wealth and where does it lie?" he said. "And it might be in cash, endowment and buildings, but it could arguably be in other things."
___
Raby reported from Charleston, West Virginia.