Beckley Art Center pushes for more funding, more engagement following naming of new executive director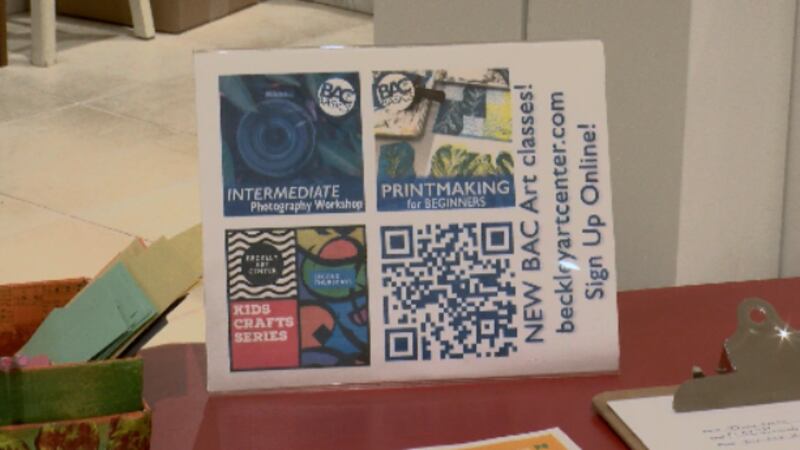 Published: Sep. 21, 2023 at 5:21 PM EDT
BECKLEY, W.Va. (WVVA) - A new push for funding has started at the Beckley Art Center (BAC) after a new executive director stepped in officially last week.
This past year, the BAC on Johnstown Road saw a dip in its funding, impacting the nonprofit's ability to serve its community and dozens of local artists who rely on the center's programming.
After serving as Tamarack Marketplace's Galley Director for years, Mandy Lester is no stranger to the art community. Still, she is new to her role as the executive director of the BAC. She tells WVVA that she is already working to secure more funds and meet new collaborators.
"What we're really trying to do is make sure that people see what we do here," Lester explained. "We need people to know what we are all about...cause it's a new era of Beckley Art Center, but also it's a lot of the same people that have been doing the same work for years."
One of these familiar faces is Saja Montague. Montague, who is the visual arts director there, has worked at the art center for years, overseeing a lot of their educational classes. She says that, while securing money keeps their lights on, those at the BAC have a passion for seeing local artists blossom in their talent, whether that's through quilting workshops, painting lessons or even classes based on current TikTok trends.
"We don't want to always be a community center that asks people to pay for things or like, you know, we want everyone to be involved and have a lot of different mediums and opportunities for people to be involved with, so, whenever we do our education classes, we try to keep it fun and easy and flexible and even offer materials if people need them."
And if you ask the center's Director of Performing Arts, Seth Hughes, this desire to teach others is generating a positive impact. One that they hope continues.
"Really, it still kind of feels like the beginning of a music program or a rebirth, whatever you want to say about it, but I feel that we are growing, and we've got more students all the time coming in to sign up for music lessons and just so numbers-wise I see that number steadily growing..."
Hughes tells WVVA that he currently teaches students a variety of instruments, including piano, ukulele, guitar, percussion, vocals and more. His students range from age seven to age 75.
The BAC has several events on the horizon. Read more below.
- At 7 p.m. on Saturday, September 30, the BAC will be hosting an autumn fundraiser at Foster's Main Street Tavern in Beckley. Here, some of Hughes' students, in addition to several local bands, will be performing a wide array of Fleetwood Mac songs. The event will also feature a silent auction. Tickets are $20.
-On October 6, from 6 p.m. to 8 p.m., the BAC is joining in on a viral TikTok trend: painting fall themes onto thrifted art. Tickets are $20 if you bring your own artwork or $40 if it is provided by the art center. Also, bring your own snacks!
- The art center will be taking it back to basics on October 13 with Intro to Pastels. The two-hour lesson will begin at 6 p.m., and tickets are $50. Pastels must be provided by each student, but the BAC will provide the paper and necessary tools.
-Join Stephanie Danz, a master stained glass artist, on October 14 to begin a journey into the art of stained glass. This event will be held at the Beckley Art Center, and is for those 15 and older. Tickets are $35. At the end of the evening, you will get to take home your stained glass creation.
- On October 21, Montague will be hosting a Haunted Holga class at the Beckley Art Center from 12 p.m. to 2:30 p.m. Here, you will learn all about the Holga camera, as well as how to shoot some spooky photos. This event is for ages 14 and older and all materials will be provided. Tickets are $35.
-Although it's not technically through the Beckley Art Center, the art community will be gathering for the 5th Annual Bex Oddities and Curiosities Fair on Saturday, September 23. The free event will kick off at Word Park at Beckley at 6:30 p.m. Here, you can expect costume contests, a silent disco, fire dancers, haunted tours of the city and more.
The Beckley Art Center also has several calls for art open, including one for an upcoming gaming convention. Visit beckleyartcenter.com for a full list of events and more information on programming.
Copyright 2023 WVVA. All rights reserved.