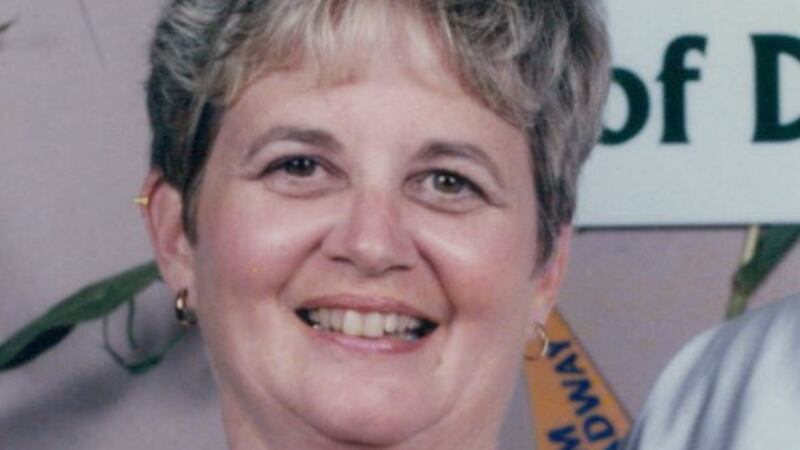 Published: Nov. 17, 2023 at 4:30 PM EST
Michele Ruth Miller, 76, of Fairmont passed away peacefully on Thursday, November 16, 2023, at WV Caring Hospice Center in Elkins after a long battle with Parkinsons. She had her husband Ken, the love of her life, by her side. She was born in Clarksburg on August 20, 1947, a daughter of the late James and Enid Furbee Crawford.
She graduated from East Fairmont High School in 1965 and was an active member of First Presbyterian Church of Fairmont. Michele and her husband lived a life of service volunteering their time to many in the Fairmont area, especially the North Central West Virginia Parkinsons Support Group.
Michele worked as a floral designer, a hostess at Das Dutch Haus Restaurant, and volunteered in the pediatrics department at Ruby Hospital. She worked at Westinghouse while her husband served in the U.S. Army. Michele was an avid sports enthusiast and a true Mountaineer fan. Michele and Ken traveled the country by motorcycle and made it to all the continental states. Michele was most proud of being a loving wife, mother, and homemaker. Her most cherished time with her family. She is survived by her loving husband of 57 years Kenneth Miller, her high school sweetheart; three daughters, Sonya Nagle and her husband Robert of Copley, Ohio, Andrea Nielsen and her fiancé Scott Stitely of Fairmont, and Lauren Sirbak and her husband John of Monroeville, Pennsylvania; two sisters Martha Snyder and Melinda Double and her husband Mark; one brother William "Bill" Crawford and his wife Carole; brother-in-law Bill Miller and sister-in-law Charlotte Miller; grandchildren Mia Nagle, Luke Nagle, Zach Nielsen, Caleigh Nielsen, Emma Sirbak and Annie Sirbak; and several nieces and nephews.
In addition to her parents, she was preceded in death by two granddaughters Ashley and Avery Nielsen; two brothers-in-law Samuel Snyder and Ronald Miller; sisters-in-law Jeannie Lough and Dee Miller; and her father-in-law and mother-in-law Kenneth and Barbara Miller.
Friends may call at Carpenter and Ford Funeral Home, 209 Merchant Street, on Sunday from 1:00 p.m. to 8:00 p.m. and Monday from 11:00 a.m. to 1:00 p.m. A funeral service will be held at the funeral home on Monday, November 20, 2023, at 1:00 p.m. with Reverend Evan Walker officiating. Burial will follow at Grandview Memorial Gardens.
Memories and condolences may be sent to www.carpenterandford.com
Memorial contributions may be made payable to the: NCW Parkinsons Support Group, 107 C'anna Square, Fairmont, WV 26554. Please note in the memo "Local Support Group Only" or WV Caring Hospice PO Box 760 Arthurdale, WV 26520.
BRIDGEPORT, WV (WDTV)
Copyright 2023 WDTV. All rights reserved.