5 News Investigates: The Rising Cost of Death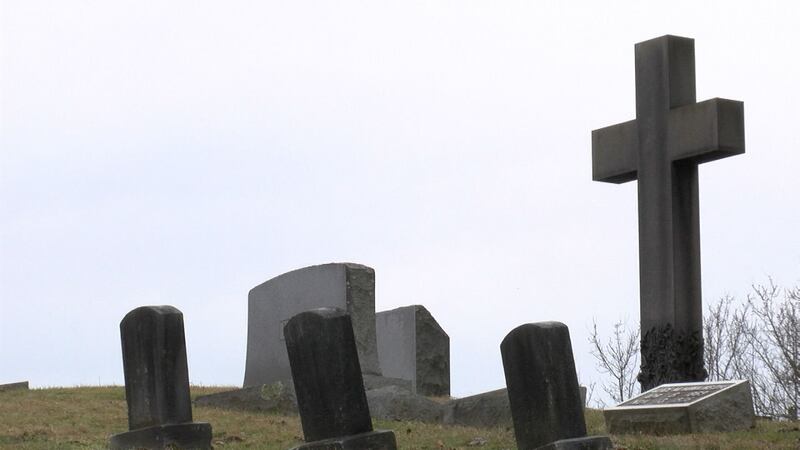 Published: Feb. 26, 2019 at 12:50 PM EST
Nancy Bickerstaff defines herself as a black-and-white business person. She retired from the banking industry in 1995 and hasn't slowed down as she continues her busy life.
One of her duties is heading up the board of directors for one of the oldest cemeteries in West Virginia.
She volunteers as the president of the Woodlawn Cemetery Board in Fairmont. The historic cemetery was founded in 1875 and currently has more than 11,000 graves, including former governors, legislators and veterans of all of America's wars, according to the cemetery website.
"Running a cemetery isn't something I thought I would do before I kicked the bucket," Bickerstaff joked.
It's safe to say a lot has changed since the cemetery's inception, especially the costs associated with our evolving cultural traditions that lead up to going six feet under.
COST OF DYING OUTPACING COST OF LIVING
The average cost for a funeral in 1960, the first year statistics were available from the National Funeral Directors of America, was $708. That excludes cemetery vault fees and other miscellaneous charges.
The NFDA said in 2016, that number grew to $7,360.
The U.S. Bureau of Labor Statistics began tracking funeral expenses in 1986. Three decades after its data began, funeral expenses saw a jump of over 225 percent. During that same three-decade period, prices for all other consumer items rose just over 120 percent.
"I think the cost of funerals is just more than people can afford," Bickerstaff said. "They really can't afford it. "
The numbers back up her statement.
A January 2019 survey by Bankrate.com found that only 40 percent of Americans could pay for an unexpected emergency over $1,000. That figure alone wouldn't cover a cremation, let alone a standard funeral.
Jonathan Clutter, Pat Boyle Funeral Home director in Jane Lew, said consumers aren't planning ahead as much as they once used to, even in the 11 years since he entered the industry.
"We see a decline in people preparing for the inevitable," Clutter said. "It puts a lot of financial stress and burden on their family. Planning ahead always locks those prices in and I think that's the best tool to combat rising inflation."
Multiple funeral home directors in North-Central West Virginia attribute the rising costs of materials and daily operational expenses to the inflated funeral cost figures.
NEED TO CHECK FUNERAL PRICES? DON'T GO ONLINE
In their time of need, knowing there are drastic financial hurdles in front of them, how should West Virginians go about adding up the impending costs of their or their loved ones' funeral services?
The internet won't be of much help.
More than 80 percent of Americans use the internet to compare products and services on a first-time purchase, according to a 2016 Pew Research Center study.
But a WDTV analysis of more than 50 funeral home websites across North-Central West Virginia found that only three plainly and clearly listed their general price lists online.
Some websites had "Coming soon" listed on pages where a price list should be detailed. Others listed materials such as urns and caskets, but the costs associated with those items were nowhere to be found.
Jared Jenkins, the Fred L. Jenkins Funeral Director in Morgantown, is one of those three aforementioned funeral homes voluntarily listing prices online.
He said his website template gave him the option to make prices visible.
"What are we hiding? I have to be transparent," Jenkins said. "Why wouldn't I just get in front of that?"
WHY NOT POST PRICES ONLINE?
The simple answer is funeral homes aren't required by law to make their prices available online. They are, however, mandated by federal law to make provide those figures to a consumer upon request via telephone or in person without hesitation.
That's because the Federal Trade Commission in 1984 instituted the Funeral Rule as a way to protect consumers and hold funeral homes accountable. Consumers aren't required to disclose their name, address, or telephone number first.
Patti Poss is a senior attorney with the Bureau of Consumer Protection at the Federal Trade Commission.
"It's there to make sure consumers can make informed decisions and lower existing barriers to price competition in the market," Poss said. "It's a disclosure rule."
Poss said funeral homes currently found in violations of the rule could be liable for up to $42,530 per violation.
But Internet provisions are major components absent from the rule, meaning funeral homes aren't legally required to post their costs online.
The last time the rule was amended was 1994, just as the internet was going mainstream.
Poss said the rule is up for review in 2019. The FTC reviews rules on a rotating, 10-year basis. It evaluates the rule based on changes in economics, technology, or other industry changes, according to Poss.
When the FTC reviews the Funeral Rule later in 2019, there is a chance internet provisions will be added, but there's no guarantee.
Jason Smith opened the Smith Funeral Home in Morgantown in July 2015. That's when he said he became the first funeral home in North-Central West Virginia
"For me, the funeral rule and putting your prices online are one and the same," Smith said. "We felt that it was more of an obligation to people to be as transparent with them as we could. If we put our prices out online, it keeps a level playing field. It also allows people to sit and calculate a service that is within their financial needs."
Smith said the move has been well received and pointed to several instances of people who chose his funeral home over the competition simply based on the pricing information found on his website.
Jenkins and Smith said including prices on funeral home websites will only help increase transparency for an often-criticized industry and create more fairness in the marketplace.
Clutter said a change in the industry-standard when it comes to posting prices would change the industry for the better, even though he currently doesn't post prices to his funeral home's website.
"I think it would make everybody walk a fair game," Clutter said. "Nobody would have any hidden costs. Everyone would have to charge the public what their services are."
COMPETITION AND CUSTOMIZATION
A leading reason funeral home directors cite for not publicly displaying prices on the internet - along with the fiercely competitive nature of the industry - is the increasingly customizable nature of funerals.
David Bolyard has owned Davis Funeral Homes in Preston, Harrison and Taylor Counties since 2007.
"We want people to come in and see our facilities," Bolyard said. "A lot of times when you look at it, do you understand what's there? I think it's more being able to sit down and talk to someone and explain what they're looking for."
Still, Bolyard said, funeral home directors shouldn't lose sleep over the possibility of publicly disclosing prices. After all, in theory, there is nothing legally stopping a funeral home director or staff member from walking to a competing funeral home and requesting a general price list.
"(Other funeral home directors) are worried about people getting their price list," Bolyard said. "Prices are prices. Ours is based on our services and what we offer."
Stephen Kemp, a spokesperson for the NFDA and funeral home director in Detroit, Mi., said he often cautions funeral homes against making price disclosures online.
"I think funeral homes have a very close relationship with their community," Kemp said. "Often times, funeral homes will adjust their pricing depending on family issues and we try to meet them where they are. I'd rather talk to a family than have them read what my prices are.
"It will all depend - if I know the family or the circumstances around the family, most of the time, most funeral directors, they will meet the family regardless what their needs and wants are.
"So, I think it's a good thing to have full disclosure in any method. Right now it's not required by the FTC and it's up to the digression of the individual funeral home whether or not they want to post those online or not."
THERE'S HELP, BUT THE WELL'S RUN DRY
There is government assistance to help cover funeral costs, but resources are getting tighter as overdose death rates increase and the state's population ages.
In response, state lawmakers decreased the maximum amount the West Virginia DHHR's Indigent Burial Program could pay for burials from $1,250 to $1,000 during the 2018 legislative session.
That doesn't cover the cost of the typical cremation.
"THAT'S THE WAY IT'S ALWAYS BEEN"
Though the FTC's Funeral Rule might be due for a facelift, its website does provide resources for consumers so they know what rights they're entitled to when planning a funeral.
Funeral directors have differing opinions on how publicly transparent they should be with their prices, but their advice for consumers was consistent:
Ask around, don't make knee-jerk decisions and plan ahead.
As for Bickerstaff -- She hopes to see a change in the industry and a push for more online transparency soon for the benefit of the consumer.
"I think there should be full disclosure," Bickerstaff said. "It's a very quiet, closed (industry), and they can get by with it. Nobody will step up and say 'reasonable funerals.' That's the way it's always been. There's a bond there that nobody would break."