Fishermen gather for the West Virginia Gold Rush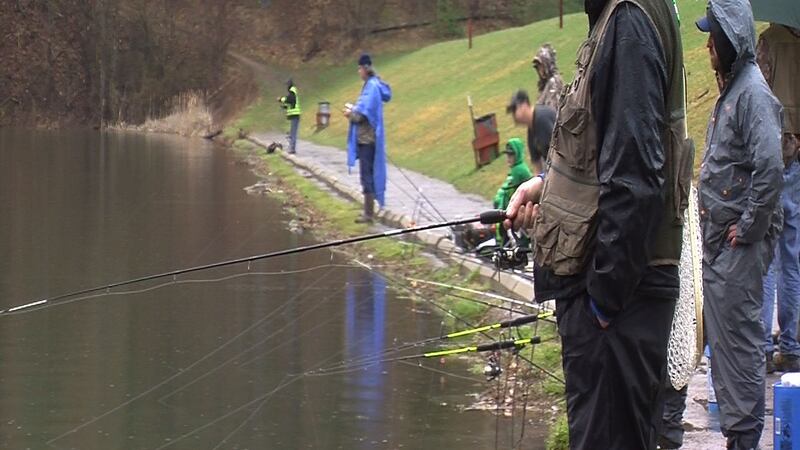 Published: Apr. 3, 2018 at 4:48 PM EDT
It's Gold Rush week here in the mountain state.
"I'm fishing at the Gold Rush," says Barbour County resident Roger Campbell.
"I do, surely do, love it" adds fisherman Bill Runyan.
And fishermen from all over are grabbing their fishing rods, trying to get their share of the gold.
"It's pretty exciting, especially when, we were here when they put them in, they put a lot of gold trout in. They're not as easy to catch as the rainbows are, but they still last a lot longer, so everybody will get about two or three" says Runyan.
Bowden Fish Hatchery is responsible for stocking some of the lakes, streams, and rivers, being very careful to release as many golden rainbow trout as they can.
"You have to be very careful not to damage them when you feed them and cleaning the raceways where they're in. Stocking them carefully and moving them around" says a laborer for the Bowden Fish Hatchery Terry Ferguson.
Ferguson says that the fish start off inside until they're big enough to be moved outside.
"Well, they're too little. They're easier to maintain inside, it keeps all the bad weather off of them, to keep them from dying when it gets cold because we usually start growing them in the winter and spring" says Ferguson.
After the golden trout have gotten big enough, that's when they're stocked. But the gold rush is more than just stocking fish, it's an economic engine too.
"It brings money to the state and we need it," says Runyan.
Ferguson adds, "Well, economic growth for bringing in out of state people fishing and all that."
But even more than money, fishing at the Gold Rush is something that can be passed down through generations.
"Cause I love to fish. Ever since I can remember, I've been fishing and hunting. I passed it on to my son, grandsons and it's pretty cool" says Runyan.
According to Tucker County's Convention and Visitors Bureau, the Blackwater River, upstream of Davis, is going to be stocked for the Gold Rush again on Friday.