Frontier employees' strike enters second day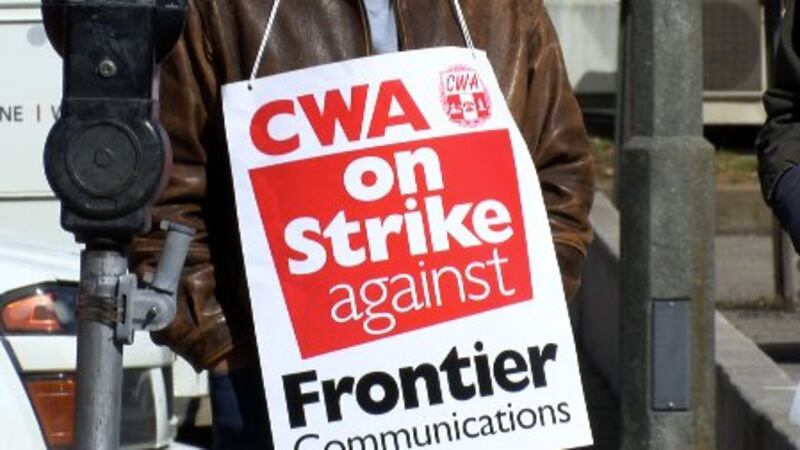 Published: Mar. 5, 2018 at 6:50 PM EST
Union workers and Frontier company representatives appear to be at an impasse in contract negotiations, as about 1,400 workers again took to the picket lines across West Virginia and parts of Virginia.
Monday marked the second day of the strike, after the contract between Communications Workers of America (CWA) and the company expired Saturday.
Contract negotiations have been ongoing since August, and the contract was first extended in November.
The two parties worked out another extension until March 3, but concerns over job security led workers to walk off the job when the contract expired Saturday.
The main sticking point: job security.
"What we're trying to obtain is a fair contract to keep the work in West Virginia," said Chris Moore, president of CWA Local 2011.
Moore and several other workers gathered on West Main Street in Clarksburg Monday, as they lamented that hundreds of jobs have been cut by Frontier since 2010.
"Frontier's main goal is to contract out work and take work away from the workers in West Virginia, away from our communities," Moore claimed.
Union employees want a renewed commitment from Frontier to rebuild its network in the state, and they say that translates to 100% job security.
A spokesperson from Frontier, meanwhile, said the package the company offered would ensure 85% of the employees in the bargaining unit are "currently and would continue to be protected against any layoff, regardless of the financial condition of the company."
Below is a statement from the company:
"Despite the business and financial challenges it faces, Frontier has offered a very generous package with continued job security for the great majority of the workforce, minimal benefits changes, and solid wage increases without asking for any significant concessions."