Gov. Justice addresses drug epidemic, tourism and raises in State of the State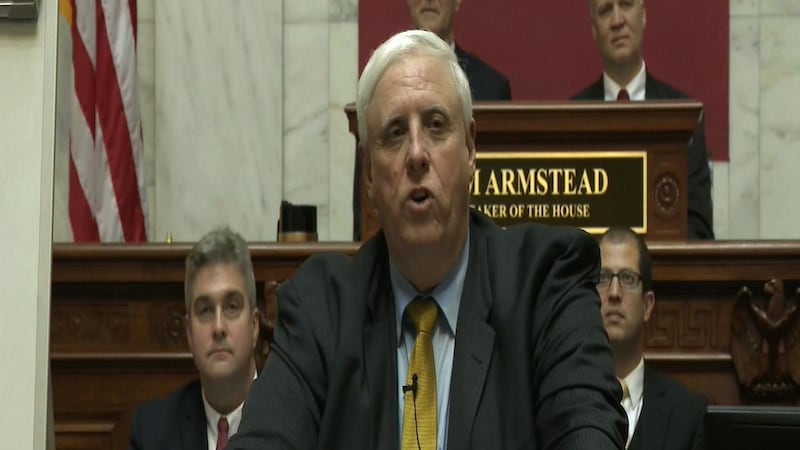 Published: Jan. 10, 2018 at 8:20 PM EST
Governor Jim Justice, or "Coach", as he would like to be referred, gave an upbeat speech Wednesday night for his State of the State address.
Governor Justice used tactics from previous speeches to get his point across. Yet again, he had easels to display the state's finances and a six-year plan. He noted this time around, the plan is in the black.
He also used covered dishes and handed some out to members of the legislature. This time around they were full of positive items from the state.
Governor Justice said our state has seen a turn around but there is work to be done. "We're moving like you can't imagine," he said.
One thing Justice emphasized was we "have to stop the terrible drug epidemic." He said researchers working with West Virginia University are on their way to doing so with "landmark" studies.
Justice focused on education. "We need to pay our teachers more," he said. He spoke about that need numerous times during the speech. For part of his education plan, Governor Justice said he would like students enrolled in trade programs while in high school, to have the ability to receive their Associates Degree while they're working to receive their high school diploma.
Finances were also a big part of his talk. Governor Justice said for the first time in about four years, there's enough funding to hold a State Police Cadet Class. He also mentioned wanting to include a one percent raise for those in state government and a raise for teachers.
Justice also announced something he wanted to call "JCTAW," or "Just cut taxes and win."
"What I want to start with is the elimination of the tax of manufacturing, machinery and equipment and manufacturing inventory," he said.
The tourism industry is something Governor Justice has said, in the past, would boost our state. On Wednesday, he again pushed the need for the state to "get behind this."
When it comes to employment, Governor Justice said it's nice to see coal miners back to work but talked about the desire to get more of them there. He also touted the oil and gas industry and the China-Energy deal.