KY couple stranded in the Bahamas after illness during cruise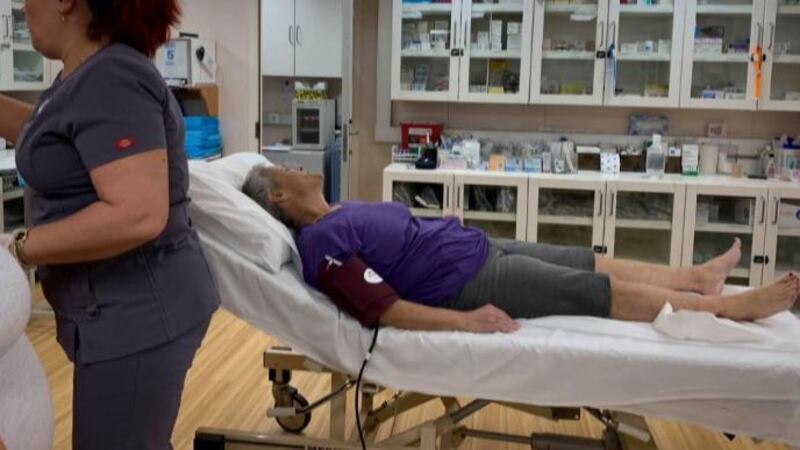 Published: Dec. 17, 2018 at 5:37 PM EST
A free vacation has turned into a costly nightmare for one Kentucky couple this weekend. They were on a cruise to the Bahamas with friends, when one woman got violently sick. Now the couple is stuck on an island with no passport, or way to get home.
"I just keep telling everybody, 'We didn't plan for this. We didn't plan for this to happen,'" said Irvine resident Michelle Manuel, as WKYT video chatted with her from a hospital room Sunday evening.
Manuel and her wife Rose Johnson were expecting to be stretched out on pool chairs aboard their cruise ship, but Rose ended up on a stretcher in an emergency room in the Bahamas instead.
"We were looking forward to it. We've been planning it since the summer and we were just really excited to leave. I know I've always wanted to go on a cruise," said Manuel.
It was a wish that their friends and travel buddies made possible by paying for their cruise tickets. The disabled women live on a fixed income, and Manuel says they couldn't have afforded the trip on their own. However, the generous gift quickly went south when Johnson started feeling sick and was rushed to the hospital with an unknown gastrointestinal problem.
"It could be life or death. He [the doctor] even said if it's the one thing, she would have to have emergency surgery," explained Manuel.
If surgery is needed, things will only get worse for the couple since the women are on Medicare, which doesn't cover costs outside the U.S. and its territories. On top of that, the cruise ship only needed a birth certificate to travel, so both Manuel and Johnson don't have passports to get back home.
The dire situation is forcing them to rely on the generosity of friends to pay for immediate medical attention. "They [the hospital] wanted me to give them $2,000 cash or else they weren't even going to see her at all," said Manuel, as the costs quickly added up, "They said I had to pay $750 dollars cash right then, or they won't even send her out for the CT scan."
The Kentucky couple is now figuring out how and when they'll be able to get home. Manuel says she plans to go to the U.S. embassy on Monday and hopes things will be sorted out, since the embassy will have holiday closures soon.
Manuel says the situation is overwhelming, and her only advice for other travelers is to prepare for the worst. "I guess, come prepared more for expenses that you're not expecting," she said.
Friends are collecting money to help Johnson get medical care, and to help both women get back to the U.S. You can donate through this GoFundMe page: https://www.gofundme.com/help-us-get-home-stranded-in-foreign-country