Local kids get new adaptive equipment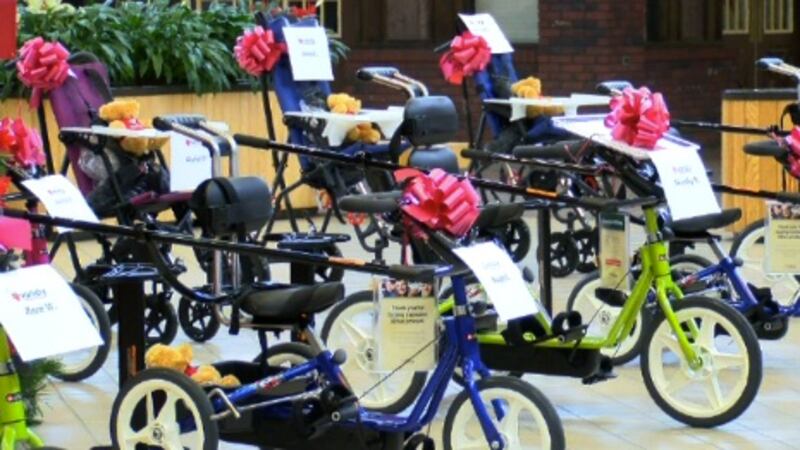 Published: Dec. 14, 2018 at 5:59 PM EST
"I'm just super excited," said Heather Nelson, a parent whose daughter and son got bikes today.
"It means the world to us," said Tim Hodge, whose son also got a bike.
Over $31,000 worth of adaptive bikes ... strollers and communication devices were presented to local kids with disabilities. Transforming their lives for the better.
"Having the bikes is going to be able to help us do more types of therapy things at home and help them to hit those milestones faster," said Nelson.
Variety, the Children's Charity, has donated more than 2,500 pieces of equipment since 2012. Covering 54 counties in Pennsylvania and West Virginia combined, they've managed to help children feel empowered.
"They're sitting on the porch. They're watching their brother and their sister and their cousins and their friends in the neighborhood ride and they're left out. They're not included, so they don't feel like they belong. Which is crazy because if we get them the right bike they can join in," said Charles LaVallee, the CEO of Variety.
"This is the first time Timmy rode a bike and he loves it," said Hodge.
Each child also had the chance to choose what color bike they wanted.
"Mine's pink," said one child in excitement
Some even matched their clothes and shoes to the bikes.
The "My Bike" program, gives children the ability and freedom to navigate ... and after the success of this program came "My Stroller" and "My Voice." A need expressed by the parents.
"By listening to the parents, they were articulating and then when we looked into it this was a need we could meet," said LaVallee.
The communication devices also given out to ensure that family members can finally understand what their kids need.
"We'll be able to understand him. He'll be able to tell us what he needs, what he wants without taking 20 minutes to figure out what he's saying," said Nelson.
"Basic needs. As simple as asking for a drink and then not just getting what is handed to you, but being able to choose between something as simple as milk and water," said Hodge.
The Hodge family says their son can be more social and feel included.
"Through programs like this he's able to experience things that every other kid can," said Hodge.
Variety is looking to expand their services, so that no child misses out on the opportunity to feel special and no child misses out on the opportunity to feel pure joy.
"Enriching everybody's life and letting the kids live life to the fullest," said LaVallee.
The Bikes also have a special part that the back wheels can rest on, so the kids can enjoy their bikes indoor as well.
If you or anyone you know is in need of adaptive equipment, Variety encourages you to reach out and they will help with whatever you need.