Gambling addiction counselors go through new training after sports betting legalized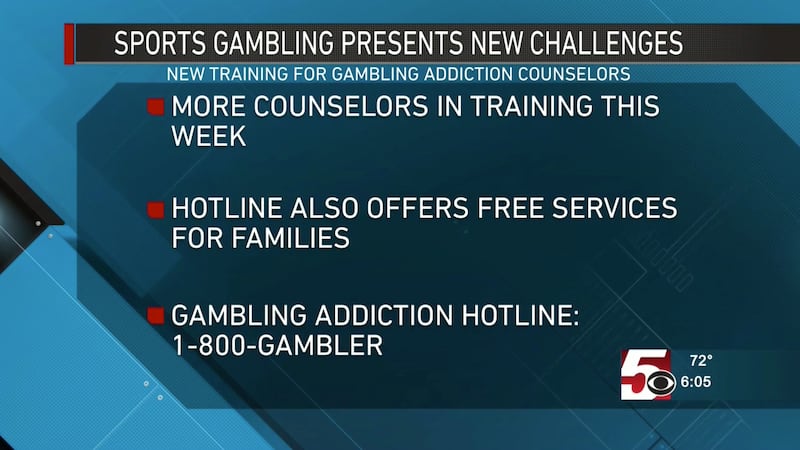 Published: Jun. 20, 2018 at 4:25 PM EDT
It's the new frontier in casinos and sporting venues across the U.S.
Sports gambling is now legalized in West Virginia. The U.S. Supreme Court reversed a federal law last month that made the practice illegal. The West Virginia Lottery Sports Wagering Act passed in March in anticipation of the Supreme Court ruling.
The state lottery commission is working to develop regulations, which could roll out late this summer or early in the fall.
In Morgantown this week, the 1-800-Gambler Program brought experts to train current problem gambler counselors on how to treat sports betting addiction.
The program is also training new counselors to add to its staff of nearly 70 counselors around the state. The program has heard calls from more than 13,000 West Virginians.
Training for the new and existing counselors includes educating them on sports gambling terminology and the psychology of sports betting enthusiasts.
Experts said sports gamblers are less likely to seek help if they become addicted, adding that they may see it as a game of skill. Traditional gamblers who engage in "low-skill gambling," like bingo or slot machines, are more likely to play as an escape from their daily lives.
Christina Foster, a clinical social worker, said sports gamblers don't tend to seek treatment. She thinks they may only seek help through family members or after an unforeseen circumstance like a financial issue, family or work conflict.
"My primary concern is to be able to screen for these issues, no matter how they come to our offices," Foster said.
The training in Morgantown also focused on the increasing studies that show young people are becoming addicted to gambling. The World Health Organization last week declared gaming disorder a real condition.
Sheila Moran, director of communications for the 1-800-Gambler program, said kids are playing games on their devices that are similar to gambling machines. The disorder has some comparisons to gambling addiction.
"It's very similar to problem gambling," Moran said. "We see a lot of the same issues...Kids are already on their machines so much; so many of them offer gambling. I think it is going to become a big deal in the next few years."
The 1-800-Gambler phone number is required in West Virginia to be displayed on any mobile app or physical location that offers gambling. Moran said the hotline could receive an increase in calls as sports betting takes off in West Virginia.
"We knew sports gambling has taken place over the years, but bookies weren't generally handing out our phone numbers," Moran said. "This is going to be really different. People are going to know there is help available, and we hope that they do call us."