Variety - A Children's Charity bringing joy to a local family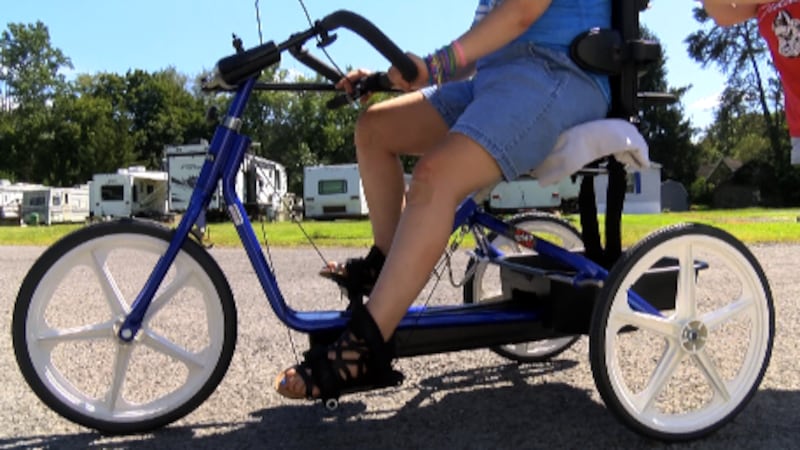 Published: Sep. 4, 2018 at 5:32 PM EDT
Cheyenne has a disability known as Pachygyria.
"It basically means smooth brain," said Cheyenne's mother JoJo Hunt. "She doesn't have folds and ridges so her mentality is like a four-year-old child."
The condition also makes her prone to seizures, which can make something as simple as riding a bike a challenge, but it's something she has always wanted to do.
"She couldn't be stable enough to hold herself up, so I was like 'we're never going to be able to have a bike'. Even trying to do training wheels on one still wouldn't have that stability because of her size."
And it was impossible until her mom discovered Variety - A Children's Charity and their My Bike Program.
"I saw this ad on TV and I was amazed by it. I immediately contacted them and found out what I need to do. I got an application for it and filled it out and now we have it."
Once they got a doctor's recommendation, proof of income, and Cheyenne's measurements they were able to get her first ever bike. She was even able to pick one out in her favorite color, blue.
"She loves it! When I came home from work last week she was out riding around with her caregivers and was just yelling at me 'Mommy look I'm on my bike!'".
Cheyenne's mom calls The Children's Charity a blessing after seeing what they have done for her family and for others.
"So many of these kids aren't able to have certain things or be able to do certain things," said Hunt. "And for this program to offer this to the kids is like Christmas morning for them, and their families."
Those interested in completing an application for one of the programs can do so at varietypittsburgh.org/applynow. Or you can call their office at 724-933-0460 to have one mailed to you.