#17 WVU halts two-game skid with win over #20 Oklahoma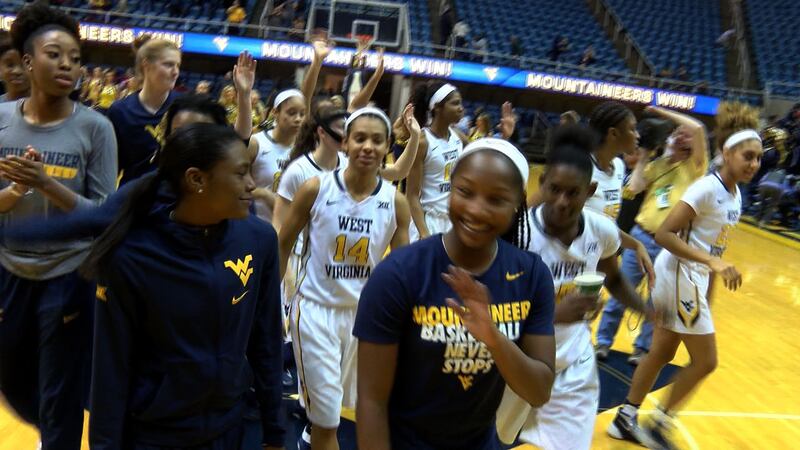 Published: Jan. 8, 2017 at 8:11 PM EST
WVU game release:
MORGANTOWN, W.Va. (January 8, 2017) – The No. 17/16 West Virginia University women's basketball team withstood a fourth quarter Oklahoma comeback attempt and prevailed 83-73 over the Sooners on Sunday at the WVU Coliseum.
The Mountaineers (14-2, 2-2) led by 17, 42-25, at halftime. However, the Sooners (12-4, 3-1) outscored WVU, 21-13, in the third to trim the lead. With 8:32 remaining in regulation, OU trailed by five, 55-50, with the ball. Teana Muldrow collected a steal and scored a layup to draw the and-one. She followed up with another layup, thanks to a steal from Lanay Montgomery to push the Mountaineer advantage back to 10. West Virginia maintained an eight-point cushion from that point forward to collect its 43rd victory and first this season over an Associated Press Top 25 team.
Five Mountaineers reached double-figures as Tynice Martin netted her first career double-double with 18 points and a career-high 11 rebounds. Lanay Montgomery tallied 16 points, grabbed 14 rebounds, blocked four shots and collected four steals in the victory, becoming just the fourth Mountaineer to record that stat line. Muldrow added 11 points and five rebounds in limited minutes due to foul trouble.
Returning for action for the first time since Mount St. Mary's on Dec. 21, Alexis Brewer made 6-of-10 from the field for 15 points. Katrina Pardee finished in double-figures with 10 points. Chania Ray dished out a game-high 10 assists, reaching double-figure assists for the second time this season.
"We needed to get a win," coach Mike Carey said. "Give a lot of credit to the players. I thought we got a little tired in the second half and that's why we got into foul trouble, because we got tired. We were able to pull out the win, so that was a big win. I thought Lanay Montgomery played well. Teana (Muldrow) played well when she was in there. Tynice (Martin) played well. Alexis Brewer, boy was it nice to have her back this game. It really makes a big difference when you have someone to put in when someone isn't playing well, so at least we had Alexis to go in and play well off the bench, which made a big difference today."
West Virginia shot 52.5 percent (32-of-61) from the field and held Oklahoma to 40.3 percent (27-of-67) shooting. The Mountaineers were 10-of-21 (47.6 percent) from three-point range. WVU won the rebound battle, 41-33, and dished out 20 assists. WVU won the battle of the paint, outscoring OU, 38-32.
West Virginia pushed its lead to 10-6 with 3:50 left in the first quarter, but a Gioya Carter layup a minute later trimmed the game to one. WVU closed the quarter on a 7-1 run to take a 17-10 advantage.
Oklahoma tied the game, 17-17, after scoring seven consecutive points including a Peyton Little three-pointer. From there, WVU utilized a 22-6 run which included 10 points from Martin and six from Montgomery during that stretch. Oklahoma made just 1-of-6 from three-point range in the first half and was 1-of-23 from behind the arc including last year's home game.
The Sooners started the third quarter making 4-of-7 from the field. Little's jumper with 1:11 remaining in the quarter trimmed the Mountaineer lead to 55-46. Oklahoma outscored West Virginia, 21-13, in the frame.
Buckets from Vionise Pierre-Louis and T'ona Edwards trimmed the game to 55-50 with 8:53 left. However, Muldrow converted a steal into a layup along with the and-one opportunity to push the edge back to eight. WVU stretched the lead to as many as 15 late in the game before back-to-back treys from OU. Little led the Sooners with 17 points.
No. 17/16 WVU visits Texas Tech in a 7:30 p.m. ET/6:30 p.m. CT tilt on Wednesday, Jan. 11, in Lubbock, Texas. The game will be televised on FOX College Sports Atlantic.
NOTES: After defeating No. 20 Oklahoma 83-73 in the WVU Coliseum, WVU improved to 5-0 against the Sooners in Morgantown … the victory marked the 43rd time the Mountaineers have defeated a team ranked in the AP Poll since 1980 … with a game-high 18 points and 11 rebounds, Tynice Martin recorded her first career double-double … Martin has now scored in double-figures in 18 straight games … Martin also secured a career-high 11 rebounds … after scoring 11 points against the Sooners, Teana Muldrow has scored in double-figures in seven straight games … Alexis Brewer tied a career-high with six made field goals … Chania Ray dished out a game-high 10 assists and has had multiple assists in 18 straight games … Lanay Montgomery secured a game-high 14 rebounds and scored 16 points to record her 14th career double-double … Montgomery has tallied a rebound in 90 straight games … Montgomery now has 783 career rebounds and has moved into eighth place on WVU's career rebounding list, passing Dionne Morris … Montgomery also blocked four shots and has blocked a shot in each of the last 11 games and in 50 of the last 53 … Montgomery became just the fourth-player in WVU history to record at least four blocks, four steals and score more than ten points in a game … the last WVU player to do it was Madina Ali against Duquesne on November 17, 2010 … five Mountaineers scored in double-digits against Oklahoma, marking the third time this season that five players have scored 10 or more points.