Unique pitching plan lifts WVU past Baylor, 2-1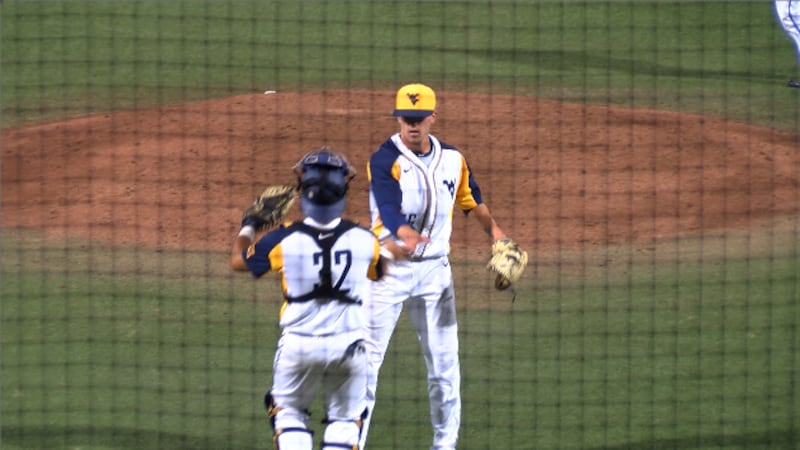 Published: May. 17, 2018 at 10:51 PM EDT
(WVU game release):
MORGANTOWN, W.Va. (May 17, 2018) – A seventh-inning sacrifice fly and stellar pitching from six West Virginia University pitchers led the WVU baseball team to a 2-1 victory over Baylor on Thursday night.
In the series opener at Monongalia County Ballpark, six Mountaineers (27-23, 9-13 Big 12) combined to hold the Bears (30-19, 11-11 Big 12) to just one run on eight hits. WVU scored a run in the third and the go-ahead run in the seventh to beat BU, which entered the weekend winners of 16 of its last 18 games and one of the hottest teams in the country.
"That might have been one of the best teams we've played all year," WVU coach Randy Mazey said of Baylor. "They stood in there and smashed the ball all over the field. We've faced a lot of really good pitchers this year, but (BU's Cody Bradford) tonight pitched better than all of them. That's the best-pitched game we've had against us this season. Kudos to them, and what a good team. They made a lot of hard outs, hit a lot of balls hard. We didn't, but we made the most of our opportunities in the seventh inning. In a game like that, it's nice to know you can get five hits and win, because we've been giving up five hits and losing. We've been hitting the ball well, but it's like they say, 'Good pitching beats good hitting,' and (Bradford) really pitched well, but we just scratched enough."
Junior left fielder/right-handed pitcher Braden Zarbnisky tripled and scored WVU's first run in the third inning to tie the game at 1-1. Zarbnisky also earned the save in the contest, pitching 2.0 scoreless innings.
Sophomore center fielder Brandon White had a pair of hits and drove in Zarbnisky. It was a sacrifice fly by freshman third baseman Tyler Doanes that scored the game-winning run in the seventh inning.
On the mound, Zarbnisky was West Virginia's sixth and final pitcher of the night. Senior right-hander BJ Myers got the start and pitched 3.0 innings, allowing a run on three hits. Five relievers followed, including junior lefty Zach Reid. He got the final out of the seventh and earned his first win as a Mountaineer.
"It wasn't a deviation," Mazey said of tonight's pitching plan. "I don't know if you saw the group of six guys sitting in the bullpen with the firemen helmets on tonight. We had a meeting yesterday and told everybody how many innings they were going to throw and what order. If anything went wrong, then we had this group of firemen down there to come put the fire out. They took it upon themselves to go up to Firehouse Subs and grab some firemen helmets, and they were all sitting in the 'pen like that, and they were ready to go. If BJ Myers couldn't get through his innings, somebody was ready to come in and pick him up. If Alek Manoah couldn't, somebody was ready. The plan worked to perfection. It was the best-pitched game we've had all year."
Baylor took a 1-0 lead in the second inning, on a two-out RBI single that came after a leadoff double.
The Mountaineers answered right back to tie the game at 1-1 in the bottom of the third. Zarbnisky got things going with a triple down the right-field line and scored three pitches later on a single through the left side by White.
Sophomore right-hander Alek Manoah relieved Myers to start the fourth inning, and stranded a runner on in the fourth and another two in the fifth. Freshman righty Tristen Hudson followed with a 1-2-3 sixth inning, while sophomore right-hander Sam Kessler and Reid combined to hold Baylor off the board in the seventh.
Meanwhile, Baylor starter Cody Bradford retired 10 Mountaineers in a row at one point, a streak that ended in the top of the seventh when sophomore first baseman Marques Inman reached and took second on a throwing error to lead off the inning. He took third on a single and scored on a sacrifice fly Doanes to give West Virginia a 2-1 lead.
Next up on the mound for WVU was Zarbnisky, who struck out the side in the eighth inning while allowing just a two-out double.
Zarbnisky finished off the win with another two strikeouts in the ninth inning.
The series continues on Friday, with first pitch moved up to 3 p.m. ET, due to inclement weather expected in the area. The regular-season home finale is set for Saturday at 1 p.m.
Tickets are available for both games at WVUGAME.com, by calling 1-800-WVU GAME, at the Mountaineer Ticket Office at the WVU Coliseum or on game day at Monongalia County Ballpark. Admission for WVU students is free with a valid student I.D.
Friday is Friday Happy Hour, with half-off beverages available from 2-3 p.m., and fans can play Baseball Bingo. Saturday is Family Day, where fans can purchase four tickets and receive a $10 concession voucher for just $25. It also is the final trading card giveaway and postgame autograph session of the year, for kids 18 and under. The home finale is National Armed Forces Day, with $3 tickets for members of the military with a military ID.
Prior to Saturday's game, graduating seniors Shane Ennis and BJ Myers will be honored for their outstanding careers in the Old Gold and Blue.
NOTES: West Virginia improved to 27-23 on the season and 9-13 in Big 12 play … WVU improves to 10-7 all-time against Baylor and 5-1 at home, while the Mountaineers have won five of the last six and seven of the last nine … West Virginia is 15-6 at home … Zach Reid earned the win, the first of his career … Braden Zarbnisky picked up the save, his first of the year and seventh of his career … Darius Hill's career-long and team-leading reached-base streak was snapped at 25 games.